The Last Of Us is a thrilling game that combines survival skills and action to keep you engaged in an amazing gaming experience. Published by SCEA, this game has been developed by Naughty Dog.
Game Mode
An action-packed series, this game is for adventure-gaming lovers. You may enjoy the single-player game, as well as try the new multiplayer add-ons. The game can be downloaded and played in LAN mode.
Game Play
United States of America is plagued by a modern pandemic, leaving behind only a handful of survivors. Joel, a violent survivor is assigned the task to smuggle Ellie, a teenager known to have gained immunity against the virus, out of an oppressive military quarantine zone. This job somehow snowballs into a massive journey across the US.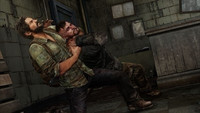 Rating
This game is suitable for 17-year old and above, as it has mature content dealing with intense sexual and violent themes.
Content